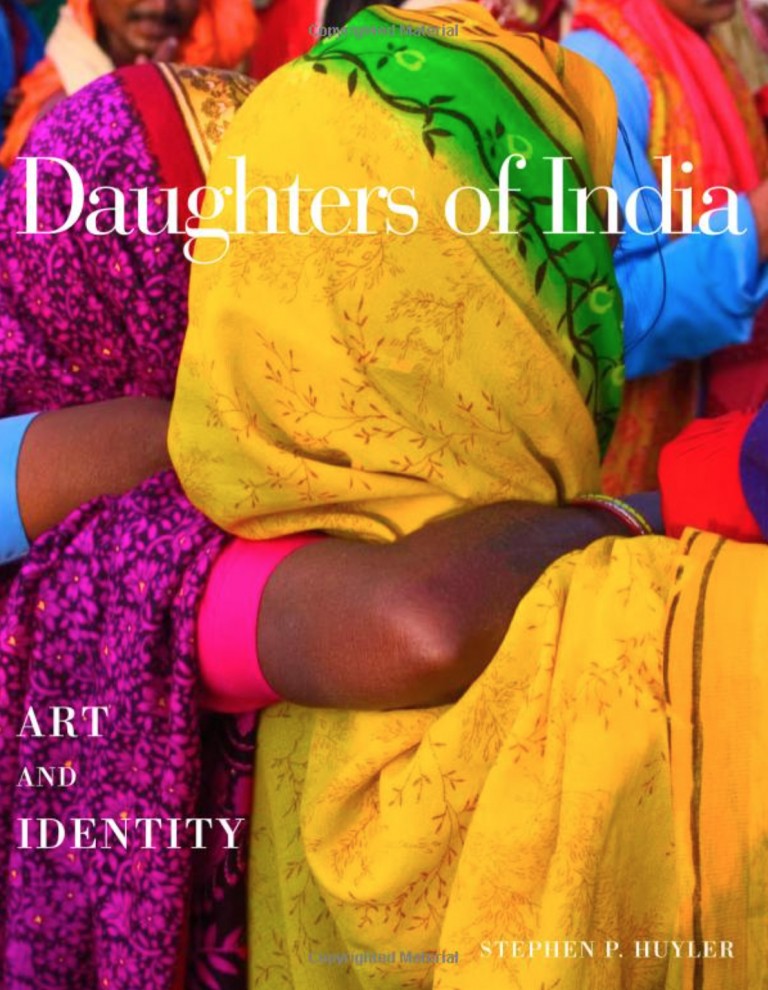 Daughters of India: Art and Identity
Through engaging storytelling and 250 illuminating photographs, Huyler profiles 20 women from diverse communities, from the rice paddies of southern India to the tea plantations of the Himalayas, from the dry western deserts to the verdant east coast, and from tiny villages to enormous cities. They represent every woman: the traditional and the contemporary, the repressed and the highly innovative, the outcast and the entrepreneur, and from Hindu to Christian to Muslim. These stories, told in the women's own words, express the innate strengths they demonstrate in their battles against adversity.
A single thread of creative expression connects all of these women. Some view themselves as artists while others would be surprised to be identified in this manner, but each woman creatively embellishes her daily or seasonal life. In profiling these productive, dynamic women, author Stephen Huyler expresses many aspects of Indian womanhood: preparation for marriage and leaving home; the influence of contemporary values; the stigma of unbending customs; the courage to break centuries of tradition; the challenge of entering the marketplace; the removing of veils; and more recently, competition with males in a modern world. Each chapter is evocatively illustrated with photographs of community, environment, and art, intimately portraying the lives, activities, and rituals of Indian women.
Publisher: Abbeville Press and Mapin Publications
Date: September 2008
Sonabai: Another Way of Seeing
This book profiles a challenged Indian woman who employed unique creativity to change not only her life but that of her community and region.
For 15 years, Sonabai Rajawar lived in total isolation in her central Indian village. Her desperate loneliness drove her to populate the inside of her home with extraordinary sculptures. Her unusual vision engendered an original style of art with immediate appeal to others. Decades later, she received national and international attention and the highest awards India can bestow on an artist. The recent pandemic and consequent lockdown around the world has drawn more profound attention to this remarkable woman. Her life's work proves that even in isolation, or perhaps because of it, inspiration can provide solutions to even the direst situations.
This book, beautifully illustrated with Stephen Huyler's photographs, was created to accompany a traveling exhibition he designed and curated that featured Sonabai's art and that of six artists she inspired.
Accompanied by a DVD of an award-winning film of the same title.

Publisher: Mapin Press
Date: July 2009
(Link to reviews)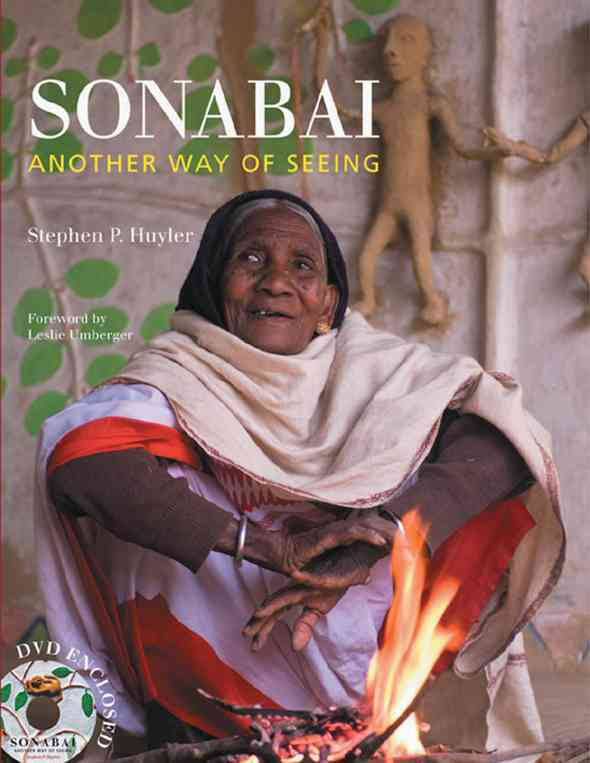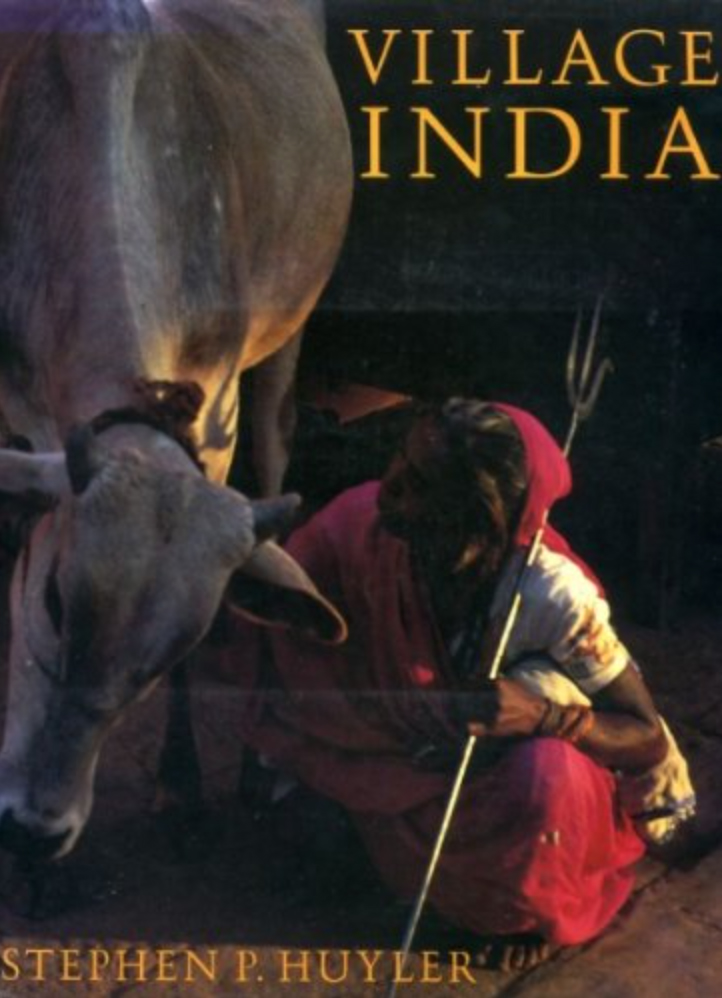 Village India
Most of our limited knowledge of South Asia focuses upon cities and royal cultures, yet close to 80% of the population of India still lives in villages. Author Stephen Huyler composed this first and, as yet, only general survey of the peoples and cultures of rural India in a very intimate and approachable manner. He introduces the reader to many of the social, religious, cultural, technological, and creative aspects that collectively define the villages of India and then systematically surveys twelve of its states, depicting its diversity region by region. As part of his unique approach, Huyler has compiled a history of the rural areas of India to understand its evolution and complexity better. 200 black and white and 100 color photographs enrich his text.
Publisher: Harry N Abrams
Date: September 1985
Unfortunately out of print, but occasionally available on e-Bay
Mud, Mirror, and Thread: Folk Traditions of Rural India
Over five years, Stephen Huyler worked with Nora Fisher at the Museum of International Folk Art in Santa Fe, New Mexico, to co-curate an exhibition of the same title. This extensive catalog contains two chapters by Huyler illustrated with his photographs: one about the decorative household art of Indian women and the other about votive Indian terracotta sculptures.
Publisher: Museum of New Mexico Press
Date: September 1994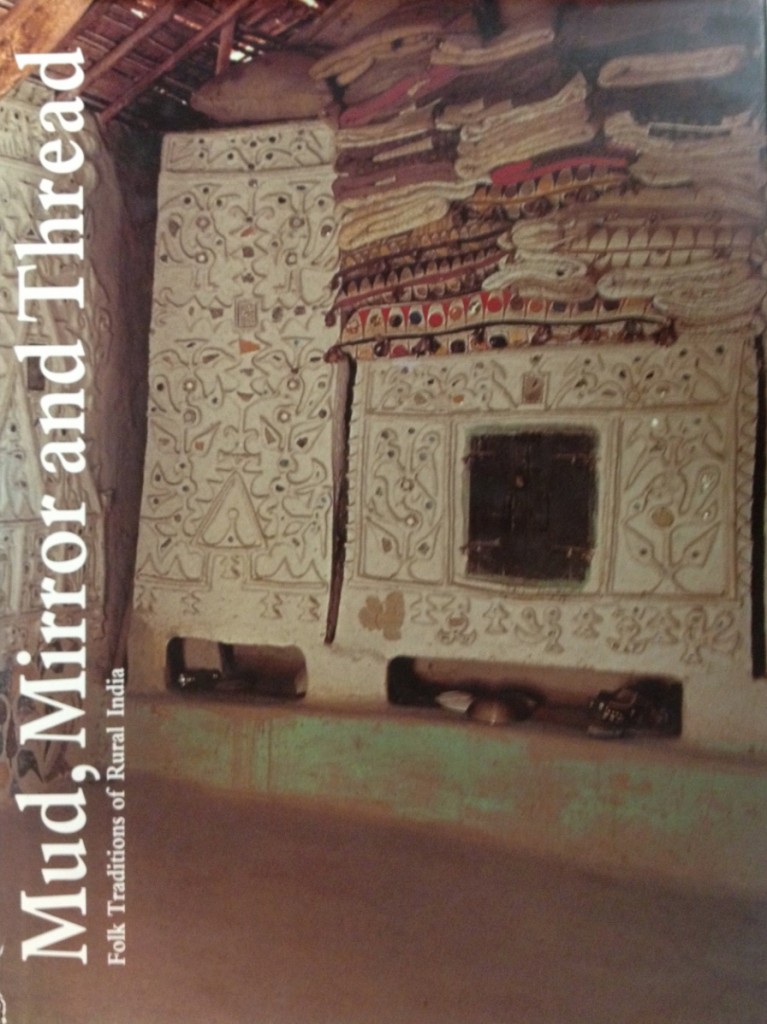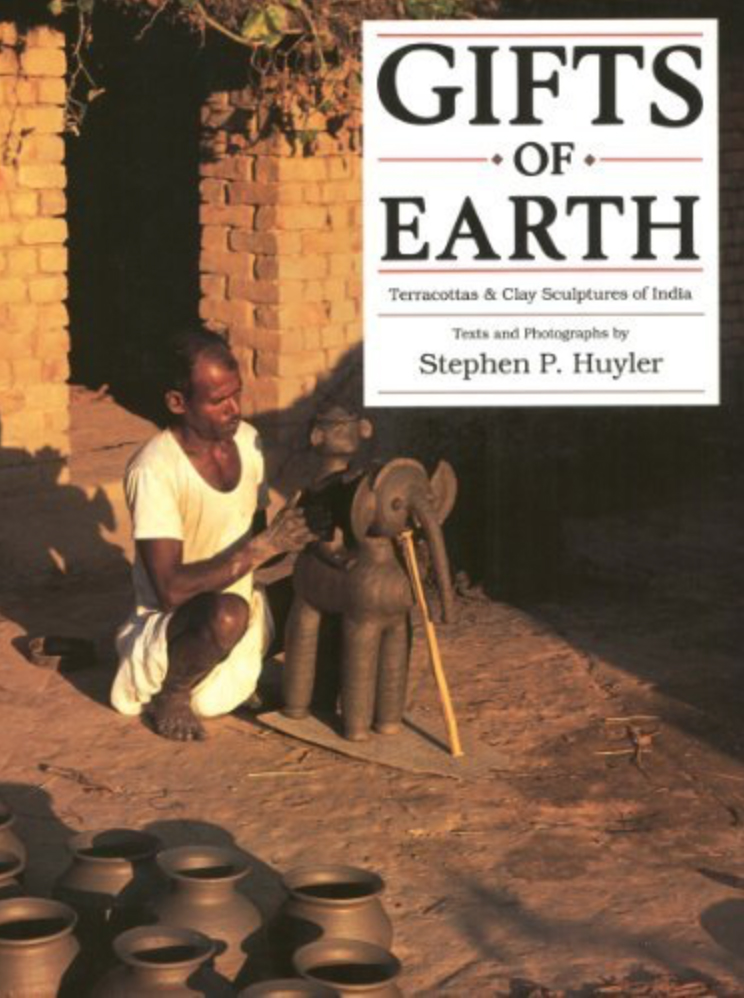 Gifts of Earth: Terracottas & Clay Sculptures of India
Clay is essential to Indian culture, past and present. It is accessible everywhere; it takes form with minimal effort, and its fragility assures its constant renewal. It has been the perfect vehicle for Indian creativity throughout the ages. The shapes and styles of items made of clay, both fired and unfired, are innumerable. They comprise everything from the minuscule to the gigantic, from simple to highly ornate, from realistic to abstract, from purely practical to utterly fantastic. Many of the potters who make them act dual roles as craftsmen and as links to the god. Their products are often remarkably similar to those found in ancient archaeological sites, and many potters believe that they are directly descended from India's earliest craftsmen.
More potters work in India than in any other country in the world, more than 350 thousand! Every community, however small, usually incorporates at least one working potter, while towns and cities have large potting populations. As these craftsmen cater to an extraordinary diversity of subcultures, traditions, and environments, their products are usually varied. They make vessels for every conceivable household use, from the simplest clay lamps, cooking pots, and food containers, to storage bins eight feet high. They sculpt images for religious ceremonies ranging from tiny figures made from pinches of clay to magnificent horses and elephants over eighteen feet tall, the largest terracottas ever created in the history of humanity.
With a sumptuously illustrated and compelling text, author and photographer Stephen P. Huyler surveys this exciting craft through examples from all over India. He documents contemporary potters, their techniques and production, and the use of clay in the households and temples today, exploring the comparison of today's products with those of ancient India. Discovered by the author during nineteen years of extensive travel, research, and photography throughout the Indian subcontinent while pursuing his doctoral dissertation, most of these sculptures and vessels have never been documented before.
Publisher: Mapin Press
Date: January 1996
Painted Prayers: Women's Art in Village India
Women throughout India paint their homes regularly with decorative and sacred designs intended to propitiate the Divine and protect their homes and families. Their art turns simple walls and floors into evocative canvases that express whimsy, beauty, and delight. Most of this art had never previously been documented or publicized and, in the years since this book was published, much of it has ceased to exist.
Painted Prayers resulted from 14 years of painstaking field research and photography conducted by Stephen Huyler in 7 Indian states. Published in American, British, French, and German editions, the volume complemented an exhibition of the same title that traveled throughout the United States, Europe, and India. It is, unfortunately, out of print, but copies are occasionally available online.
Publisher: Rizzoli International
Date: December 1994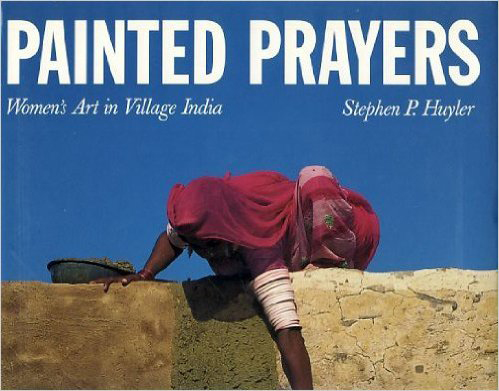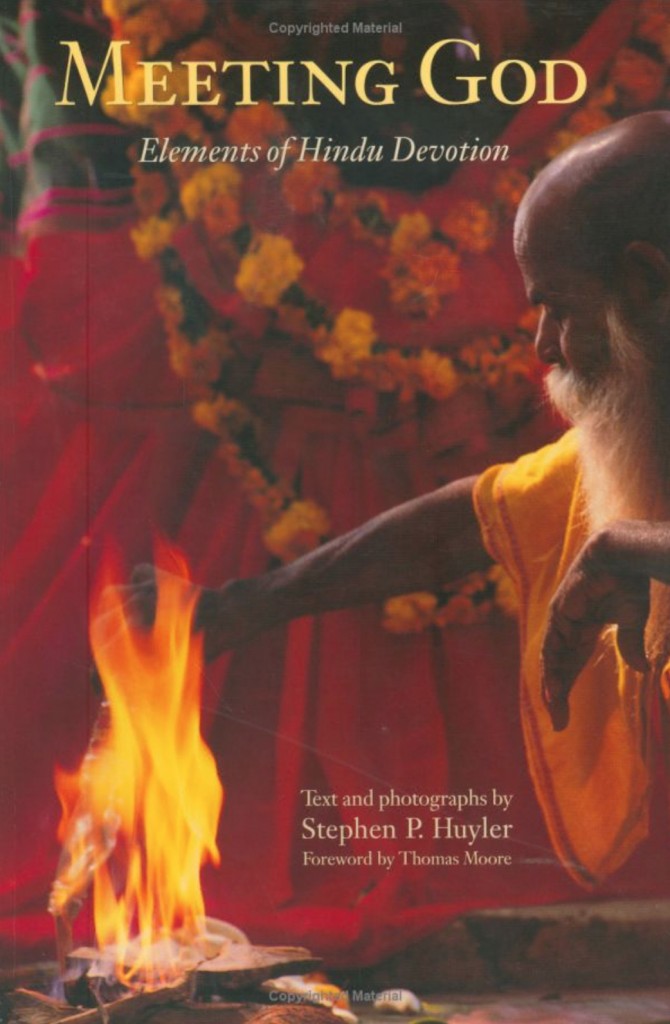 Meeting God: Elements of Hindu Devotion
Hinduism is the world's third-largest religion after Christianity and Islam. As Hindus become leading proponents of an innovative and contemporary world, their sense of religion and spirituality is not diminished. Hinduism is a belief system in harmony with change, modernization, and growth. 1.2 million Hindus live and work in the US and millions more in Britain and Europe, yet most Westerners either know little about Hinduism or misunderstand its fundamental beliefs and rituals.
In Meeting God, a book originally published as a companion to a major traveling exhibition of the same title, Stephen Huyler exposes readers to the breadth and vitality of reverential experience in India. Huyler reveals household and community rituals and festivals that are the mainstay of Hindu life through hundreds of full-color photographs and evocative commentary. 
During decades of intensive travel throughout South Asia, author/photographer Stephen Huyler was a guest in countless Indian homes where he witnessed many ceremonies and rituals and shared in private and public devotions. In the early '90s, the Smithsonian's National Museum of Asian Art (The Freer and Sackler Gallery) requested him to curate a major exhibition on practical Hinduism. When Puja: Expressions of Hindu Devotion opened there to the public in Washington, DC, in the spring of 1996, the museum intended it to run for six months. However, popular demand kept it open for four full years! As the museum had no budget for a catalog, Huyler decided to write, photograph, and package the book himself, returning to India for three further years of intense research to prepare it. The traveling exhibition and this book are a result of that endeavor.
In Meeting God, Huyler conveys intimate aspects of worship within the home, the community, the temple, during festivals, and at sacred processions. Virtually all Hindus, regardless of age, sex, race, subculture, creed, caste, social standing, or occupation, are diligent in their practice of daily devotion. Huyler describes the broad scope of Hindu beliefs and practices.
Forward by Thomas Moore
Publisher: Yale University Press
Date: September 1999
(Link to Book Reviews)
A Question of Hue: A Masala Mystery
Conceived and written as a collaboration by Stephen Huyler and his wife Helene Huyler, this gripping mystery fictionalizes aspects of Stephen's career in India: introducing foreigners to aspects of Indian culture that they might not experience on any other tour. The Huylers intend for this volume to be the first of a series of mysteries, each set in a different Indian region and subculture.
While leading an arts and crafts tour of western India, scholar Porter Lee and his colleagues uncover a ring of fine art forgeries in museums and galleries. Their discoveries incite dangerous intrigues and at least two murders. The co-authors skillfully blend enticing travel dialog with exciting twists to create a unique product for a burgeoning market.
Unpublished